INTAGE Thailand Forum Emphasizes the Company Focus on Mobile Research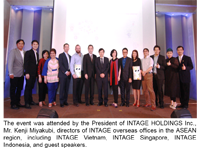 INTAGE Thailand proudly demonstrated its readiness to leap into the world of mobile and Internet research, introducing advanced research technology from Japan to the Thai market at the 3rd INTAGE Thailand Forum, held on August 27, 2014 at the Grand Millennium Asoke Hotel, Bangkok. The Forum was entitled "Connecting to the Mind of SYS: The Story of the Special Y Species? and their Multiscreen Lifestyle."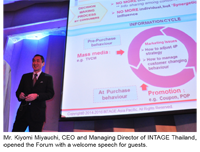 Established as one of the company?s annual events since 2012, the INTAGE Thailand Forum aims to share new knowledge and trends in marketing and research, and introduce the company?s latest multi-country research findings to its clients and the general public. This year's research focused on the same theme as that of the Forum — new trends related to Generation Y in Asia, and their lifestyle with regards to multi-screen usage. Fieldwork was conducted by MOBIBUZZ (INTAGE MOBILE OMNIBUS) via mobile phone, in collaboration with INTAGE overseas offices in 5 countries: Thailand, Vietnam, Singapore, Indonesia, and India.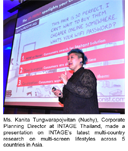 In addition to presentation of the latest research insights, which was the highlight of the Forum, the event also saw leading experts from 3 companies in related fields present updates and tips on how to respond to today's fast-paced digitalized society: OnDevice Research, LINE Thailand, and Temporal Brand Consulting.
The event was a great success, with approximately 250 participants comprising clients, partners, and the general public. It underscored INTAGE?s commitment to be the No.1 intelligence provider in Asia.