INTAGE HOLDS ITS GLOBAL MANAGEMENT MEETING FOR OVERSEAS BRANCHES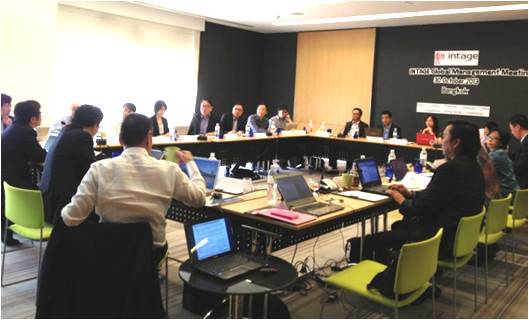 INTAGE organized its annual Global Management Meeting (GMM) for all INTAGE overseas offices on October 30, 2013, in Bangkok, Thailand. Presided by Mr. Kenji Miyakubi, President of INTAGE Holdings Inc., participants comprised directors and representatives from INTAGE Headquarters in Japan and all of its 8 overseas offices in Asia; namely, INTAGE China, INTAGE Thailand, FTA Vietnam, INTAGE India, INTAGE Singapore, INTAGE Indonesia, CSG China and CSG Hong Kong.
The GMM 2013 was set to respond to the fast-growing number of overseas branches, aimed to streamline the Group?s business strategy in the same direction as well as to facilitate resources, be it research solutions, market experience, management, and human resources. Apart from policy and information sharing from the headquarters including the new system and solution plan, the Meeting also facilitated the exchange and discussion of vital issues of each office, leading to tangible solutions and recommendations from different experiences and views.
With the strong commitment of INTAGE to strengthen a collaboration framework among group companies in 9 countries, the Group is confident that it can better serve its multi-national and local clients, and ensure a rapid take-off for business expansion all over Asia.