INTAGE President Visits Thai Office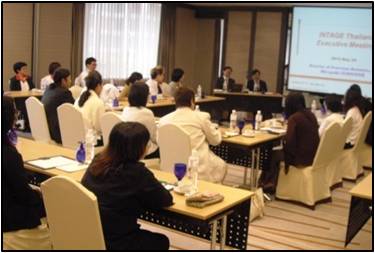 The president of INTAGE Inc., Mr. Kenji Miyakubi, paid visit to INTAGE Thailand office during his business trip to South East Asia, on May 24, 2012.
He took this occasion to meet with directors and managers of all departments for the first time after the business integration with Research Dynamics in July last year. Executives from HQ also participated in the meeting included Mr. Hiroyuki Ichinose, Board Member, and Mr. Akio Narita, Director of Global Business Development & Planning of INTAGE Inc.
President Miyakubi expressed the company ambition for overseas expansion, with INTAGE Thailand as a strong contribution to such growth. The three main goals that INTAGE Group focuses on from now are (1) Evolution to become a global company, (2) Mobile system as a powerful research method, and (3) Healthcare research which has been a strength of INTAGE in Japan for almost half a century.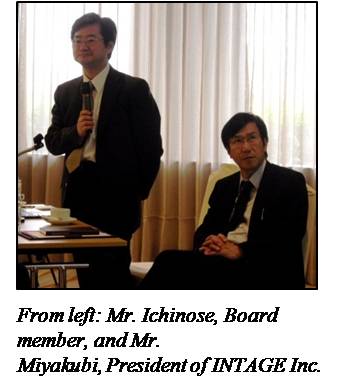 In addition, Mr. Ichinose informed the Thai staff of the basic direction of overseas business strategies and action plan in the Japanese fiscal year 2012. He added that, at the headquarters, a big investment has been allocated to a new online survey system, through a joint venture with NTT docomo, a leading mobile phone service provider. Such investment, if proves successful in Japan, is expected to be brought to INTAGE Thailand, as to capture the new trend of online society in the country.
He also announced the newest branch in Gurgaon, India, scheduled to be established in August this year. This will become the 4th overseas branch of INTAGE Group.
The meeting gave a good opportunity for the top management to directly communicate with the Thai employees as well as for the local staff to openly discuss their concerns and propose ideas to the Headquarters.